| | |
| --- | --- |
| You are here: Home >> Products > Flat Transmission Belt | |
Flat Transmission Belt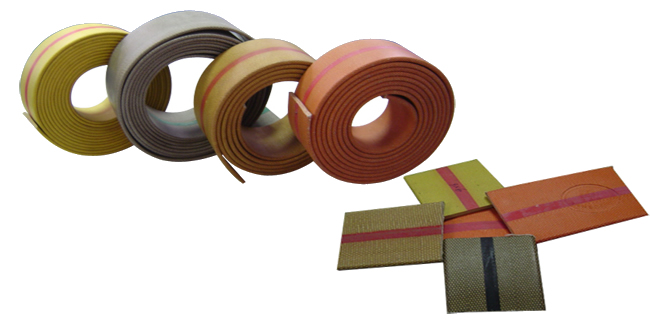 Application:
It is mainly used in factories, mines, docks, metallurgical industry, ordinary mechanical power transmission, great power processing of grains like rice and wheat, irrigation equipment, wood cutting and other power transmitting equipment for industry and agriculture.

Product classification:
Category: 28 OZ(ounce), 30 OZ(ounce), 32 OZ(ounce), 34 OZ(ounce) and 36 OZ(ounce).


Cut edge flat rubber belt: Cut edge flat rubber belt is manufactured by adhering several layers of full width canvas together, the sides of the belt are surfaces formed by cutting, the belt edge surfaces are coated with rubber paste.


Round edge flat rubber belt: Round edge flat rubber belt is folded by the outer ply or plies of canvas, and the sides of the belts are curved surfaces.


Available in variety of colors, mainly of them have four colors: light brown, yellow, orange and black.
Product Specification Series:
| | | |
| --- | --- | --- |
| Width(mm) | Piles | Width Tolerance |
| 20,25,30,40,45,50,55,60 | 3-4 | ±2 |
| 65,70,75,80,90,100,125 | 3-6 | ±3 |
| 140,160,180,200,224,250 | 4-6 | ±4 |
| 288,300,315,350,400,450,550,600 | 4-10 | ±5 |

Technical Date:

Tensile strength specification
Overail Thickness Tensile Strength
Reference number of cavas layers
Vertical minimum
Horizontal minimum
190
190
75
1
240
240
95
2
290
290
115
3
340
340
130
4
385
385
225
5
425
425
250
6
450
450
/
7
500
500
/
8